The Connemara Pony
---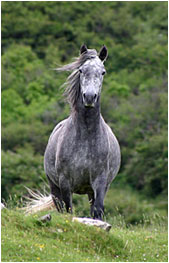 Connemara is home to the world famous Connemara pony. The Connemara pony is an attractive, hardy and versatile sports pony ridden by both adults and children. It is a very versatile breed and can be seen competing in show jumping, dressage, eventing and endurance riding. According to legend the Connemara pony first came to Ireland on the galleons of the Spanish Armada in 1588. The Spanish horses bred with the local ponies producing the distinctive, hardy and intelligent pony that can be seen today in the fields of Connemara and is bred by Connemara pony lovers throughout the world.


Connemara pony shows are held worldwide with the most famous of all being held in Clifden on the third week in August every year. The week long festivities culminate on Thursday and Friday with two days of in-hand and ridden classes in the Clifden Showgrounds. The Connemara Pony festival is followed by 4 days of pony sales in Clifden.
There are also Connemara Pony Shows throughout the summer in Connemara in different villages including; Ballyconneely, Roundstone and Claddaduff.

Links: